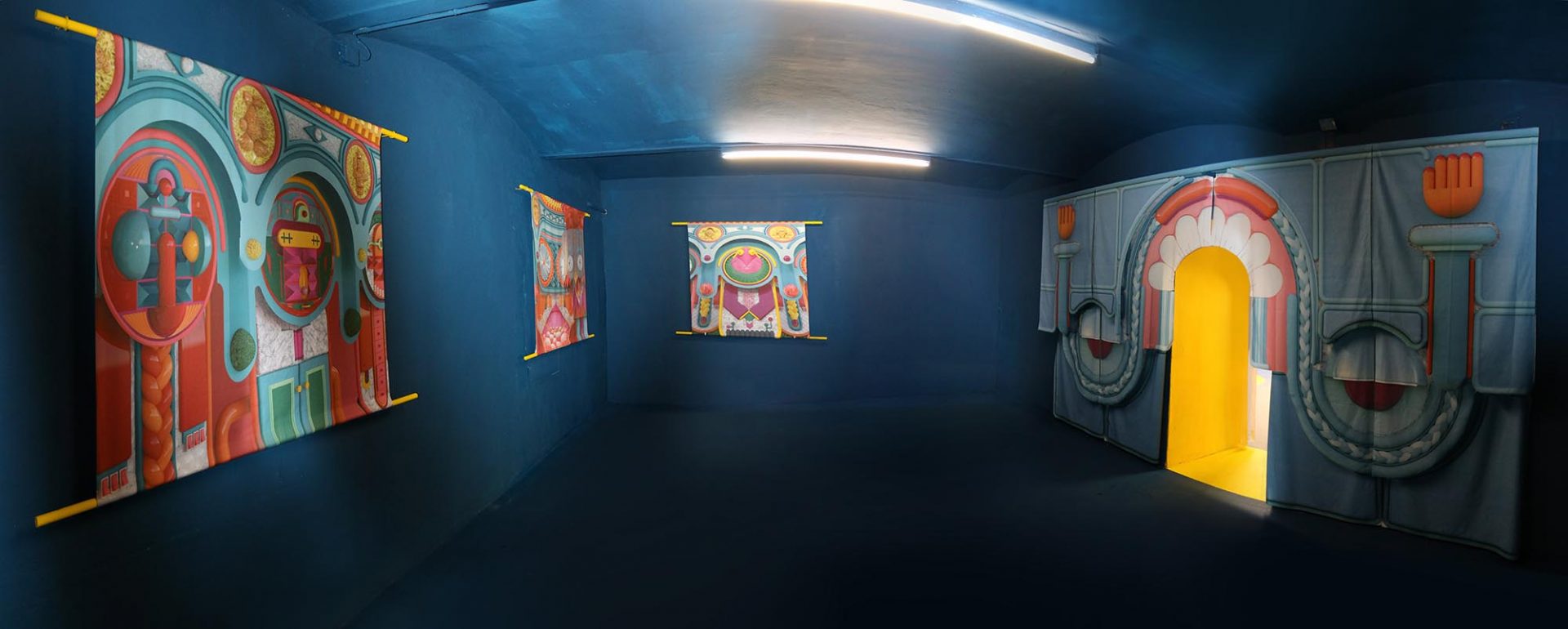 HOW I STARTED HANGING OUT WITH HOME:
Anthropomorphic Architecture in the Age of Artificial Intelligence

If buildings become robots and robots become humans, how human will our buildings be? Buildings already move and speak to us, they make decisions based on input data. With artificial intelligence at our doorstep and ever more efficient and affordable technology, will buildings soon be conscious entities? What will their minds and bodies be like? How will we relate to them? Will they be our companion? Will they look or talk like us? How will anthropomorphism influence architecture?
The installation explores these questions through a series architectural elements, such as a portal and a column carrying formal and behavioral anthropomorphic features; and a domestic vacuum cleaning robot displaying human-like behavior through motion andjudgement. Together they create and inhabit space at once. They embody the room they are in, surrounding us whilst making us feel we are intruding. The presence of another -even if that other is not a living or even a physical thing- changes our behavior, leading us to meet, engage and exchange.
As our speakers read our emails, our doors lock themselves and or washing machines tell us how dirty or clean we are, concious architecture is coming. Whether if physical or virtual, actual or imagined, we wonder what will it look like, how will it communicate with us and how close will our bond be.
SPACE POPULAR
Space Popular is directed by founders Lara Lesmes and Fredrik Hellberg, who are both graduates from the Architectural Association in London. The practice, founded in Bangkok in 2013, works on different scales of intervention: from furniture and interior design to architecture and urbanism. The duo has extensive teaching experience at INDA, Chulalongkorn University in Bangkok and at the Architectural Association in London, where they launched Tools for Architecture: a studio that explores experience-driven design methods, using immersive digital simulations to describe the unique atmospheric conditions and psychological effects of architecture. According to Space Popular these simulations serve as blueprints for a project that develops from the inside out, translating a narrative for emotion and perception into geometry and built elements. Beyond their academic experience, Space Popular has realized several built projects in Europe and Asia, such as the widely published Infinity Spa, which reinterprets the Thai shophouse generic typology into a fully embodied and immersive experience. This year, Space Popular will also exhibit at the Venice Biennale and at the Salone del Mobile in Milan